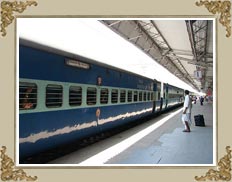 The spiritual charisma of Sri Satya Sai Baba attracts people from far and wide to the small village of Puttaparthi. This hamlet is sited at a distance of 97 km from Anantapur, 18 km from Penukonda, 47 km from Dharmavarm and 472 km from Hyderabad. Puttaparthy is well-connected to all the major cities in the southern part of India. The holy town has its own airport, railway station and bus stands. Getting to Puttaparthi from any other city in Andhra Pradesh is easy, since a well-laid out network of roads connects it with other parts of the country. Check out more on how to reach Puttaparthi
By Air
Sri Satya Sai Airport is the local airport of the town. Located at a distance of 4 kms from the Ashram, the airdrome has biweekly flight from Mumbai and Chennai. It remains in operation till the time Baba resides at Prasanthi Nilayam. From the airport, a coach is available to reach the Ashram.
By Rail
Reaching Puttaparthi by rail is simple, since Sri Satya Sai Prasanthi Nilayam railway station connects the town with the major cities of India, including Hyderabad, Visakhapatnam, Bubhaneshwar, Mumbai and New Delhi. This station is just 8 km from the ashram. Apart from this, Dharmavaram is the nearest major railway station (45 km), which to connected to almost every part of India. It is connected to Puttaparthi by regular bus services of APSRTC.
By Road
Traveling by road is one of the most convenient modes to reach Puttaparthy. Ananthapur (84 km), Hyderabad (472 km) and Bangalore (156 km) are well-connected to the town by APSRTC buses. From Bangalore, it just takes 3 hours, while from Chennai it takes one night to reach the pilgrim place. One can hire a taxi from the proximate part of the state or neighboring states to ensure a comfortable journey.