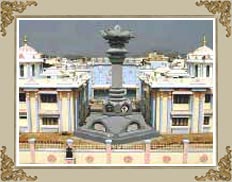 In the historical year 1926, a blessed soul appeared on the earth in the form of Sri Sathya Sai Baba. The legend experienced divine powers when he was barely 14. Acclaimed as the incarnation of Sai Baba (Shirdi), the prophet is one amongst the most revered spiritual guides of the 20th century. Sai has spread the message of experiencing the spiritual aura and looking towards God. He advises people to follow the path of spirituality and lead a life of morality.
Without any intention to start a new religion, the great soul started working for the humanity sake at a young age. It has been more than 50 years and Satya Sai is still promulgating the highest ideals of righteousness, love, truth, peace and non-violence. Devotees from all parts of India as well as the world come to Sri Sathya Sai Baba Ashram at Puttaparthi, a small town in Andhra Pradesh. The prophet himself speaks with all his followers on a personal level.
Prasanthi Nilayam, Puttaparthy
Prasanthi Nilayam, which means "the abode of highest peace", is the name given to the ashram of Shri Sathya Sai Baba in Puttaparthy. In 1950, i.e. on his 25th birthday, the seer inaugurated this ashram. This heavenly abode comprises of splendid temples, post office, public relations desk, canteen, bakery, kitchens, dining halls, guesthouses, dormitories etc. It also houses a huge 'Darshan Hall', a place where Baba meets his devotees.
Apart from this, there is a super-specialty hospital, school and a university in the haven. In fact, with all this and much more to come, Puttaparthi has developed into a town. Temples like Subramanya Mandir and Gayathiri Mandir are other attractions to visit. Dharma Stupa, a 50 foot high pillar commemorating the unity of all religions, presents a wonderful sight. Sarva Planetarium, stadiums, educational institutions and Sai Space Theatre are some other features of the Ashram.
Though each festival is celebrated here with full gusto and fervor, the prophet's birthday observes a grand carnival. On 23rd November, millions of devotees gather to commemorate Sai's birthday and receive his blessings. From July to March, Shri Satya Sai resides at his ashram in Puttaparthi. Prasanthi Nilayam is expanding day by day with the kind grace of Sai. Visit this ashram and feel yourself the divine presence of the spiritualist.