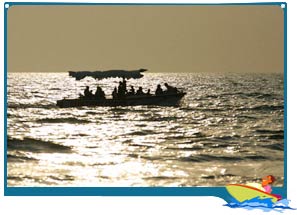 Cruises are a major tourist attraction in Goa. After a hectic day of sightseeing, the Goa cruises provide the perfect avenue for unwinding in a relaxed ambience. Besides marveling at the scenic beauty around, one also gets to enjoy the on board live cultural performances. There are options for river cruises and sea cruises in Goa.
River Cruises
Most of the popular river cruises in Goa are conducted under the aegis of Goa Tourism Development Corporation. The placid waters of the Mandovi river lend themselves perfectly for these cruise tours. The river cruises in Goa are generally theme based cruises and can be categorized into three types - daytime, sunset and moonlight. Santa Monica, a luxury launch operated by the GTDC, is used for daily evening cruises on river Mandovi with 'live' cultural programmes performed by cultural troupes.
Sunset/Sundown Cruises
As the name suggests, the sunset cruise sets sail as the sun dips in the horizon leaving a crimson sky. The cruise starts everyday at 6 pm and takes the tourists around some exotic locations including the Reis Magos Fort, the Aguada Fort and the Cabo Raj Bhavan. Cultural troupes perform traditional Goan dances such as the Dekni Temple Dance, the Fugdi Dance and the Corredinho Dance. The sundown cruise usually departs at 7.15 pm.
Full Moon Cruise/Special Cruise
The full name cruise is conducted on full name nights when the moon sparkles in all its sublime glory. The cruise commences at 5.30 in the evening and continues for two hours. Per person charges for the full moon cruise are Rs 150.
Sea Cruises
The sea cruises on the Arabian Sea are an extravagant and luxurious affair. But most of the sea cruises originate in Mumbai and they return back after a one day halt at Goa. The Kadmat Island - Goa Cruise is spread over two full nights and a day and reaches Goa via the Kadmat Island. The Goa Cruise is a relatively shorter affair as the cruise starts off from Mumbai and heads straight for Goa .