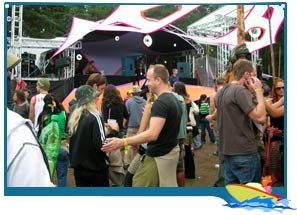 If you want to party, there is no place on this planet like Goa. Goa is synonymous with partying and the land is chock a bloc with party zones on every nook and corner. Beach parties, trance parties, New Year parties -- parties of myriad hues keep the Goan life throbbing with dynamic energy all year round.
The famous beaches of Goa are havens for party animals and the landscape is dotted with trendy discos and nightclubs. Vacationers and locals throng these party zones to dance the night away amid the beats of hip hop music. Some of the most popular party zones in Goa are Club Tito's in Baga beach, Club Antos in Calangute beach and Club Cabana at Arpora, 3 km from Calangute.
Trance parties or Goa raves are another exotic facet of the Goa party culture. The trance parties took root in Goa courtesy the hippies who arrived on the Goa beaches in the 1960s. Accompanied by the techno beats of psychedelic trance, the trance parties continued till the wee hours. Even though the hippie influx petered out in the 1990s, trance or raves are still very much a part of the nightlife in the Goa beaches.