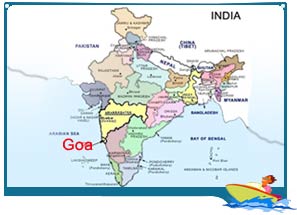 Goa is located on the western coast of Indian peninsula known as the Konkan coastal belt. Goa is bordered by the state of Karnataka on the Eastern and Southern boundaries, by the mighty Arabian Sea on the Western side and the state of Maharashtra on the Northern side. Goa is located between latitudes 15 degrees 48'00" North to 14 degrees 53'54" North and Longitudes 74 degrees 20'13" East to 73 degrees 40" 33" East.
The Goa state is spread over an area of 3,702 sq. km and is divided into two districts - North Goa and South Goa - for administrative purposes. The Sahyadri range of the Western Ghats Mountains possesses the tallest peaks in Goa and they nestle some of Goa's biggest wildlife sanctuaries.
The 105-km long Konkan coastal belt stretching across Goa is home to the stunning beaches of Goa. The beaches in north Goa are usually populate throughout the year while the ones in the south are relatively secluded.