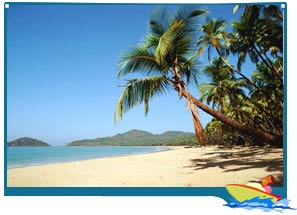 Pernem is the northernmost administrative region of Goa. Pernem belongs to the sub-region called Novas Conquistas, or New Conquests, a group of seven administrative districts of mainland Goa which were annexed to Goa at a comparatively later date. Before being merged into Goa, Pernem was a part of the territory of the Rajas of Sawantwadi, a state on Goa's northern border.
With regard to tourism, Pernem has a lot of catching up to do vis-à-vis other regions of North Goa. A predominantly Hindu locality, Pernem is home to prominent temples such as Shri Bhagavati and Shri Sapteshwar Temples. The annual fair at the Shri Bhagavati Temple held on the occasion of Kojagiri poornima enjoys widespread popularity.
The Arambol beach and the nearby fishing village are prime tourist destinations because of their idyllic landscape. The beach offers the attractions of paragliding and dolphin spotting boat trips. The Terekhol fort located at the estuary of Terekhol river was a vital part of Portuguese defence against enemy forces.