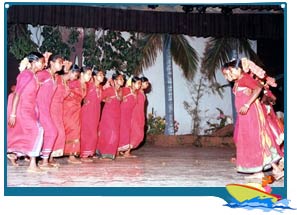 The dances of Goa are a manifestation of the rich and unique cultural heritage of the state. Goa is home to many ethnic castes and tribes, each with its exotic folk dances and performances. Moreover the rule of different dynasties throughout the ages has left their indelible imprint on the indigenous dances of Goa. While the folk dances have been carefully preserved, the influence of the Portuguese rule has given birth to new art forms.
Dekhni
Literally meaning 'bewitching beauty,' the folk dance of Dekhni is a blend of indigenous culture and Western music. This popular dance features Christian girls performing to the beats of folk drum 'Ghumat.' This dance form is essentially a portrayal of the life of Devdasis who perform dances in Hindu temples to appease the gods.
Dashavatara
The word Dashavatara translates to the ten incarnations of Lord Vishnu. Opinion is ambivalent regarding the origin of the Dashavatara dance; while some claim it to be a derivative of Yakshagana others believe that it has evolved from Kuchipudi. The theme of the Dashavatara performance is usually the theft of the Vedas elaborated by a group of artistes including the Sutradhar, 'Brahmin' figures, and women actors representing the rivers.
Dhalo
Usually seen in the rural hinterland of Goa, Dhalo is performed by village women folk on the moonlit night of Hindu 'Paushya' month. Accompanied by songs sung in Konkani and Marathi, a group of 24 women dance by arranging themselves in two parallel rows of 12. The songs are fraught with religious and social connotations.
Fugdi
Another group dance of women, the Fugdi dance is performed either in a circle or by a row of dancers. Even though Fugdi dances are performed sans any musical instruments, there are a number of special Fugdi songs. Fugdi dances are performed at both religious occasion and folk celebrations.