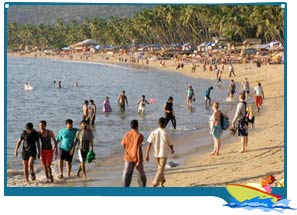 Located at the southernmost region of Goa, Canacona beckons tourists with its picture-postcard locales and sun-kissed beaches. One of the five talukas that constitute the South Goa district, Canacona is snugly ensconced between the lofty hills of the Sahaydri range (Western Ghats) on one side and the azure waters of the mighty Arabian Sea on the other. The name Canacona is thought to be a derivative of the word Konkan.
Tracing its roots, the Canacona region was part of the dominions of the Kingdom of Soonda, itself a remnant of the powerful Vijayanagar Empire of Hampi. When part of the kingdom was vanquished by Hyder Ali of Mysore, the king surrendered the remaining territory to the Portuguese. Canacona was annexed to Goa in 1794.
Despite the wealth of virgin greenery and idyllic beaches, till the 1990s Canacona was virtually untouched by the bustling tourism culture thriving in other parts of Goa. Of late Canacona tourism has gained momentum with beaches such as Agonda and Palolem holding their own against other illustrious counterparts such as Anjuna and Calangute. The Cotigao Wildlife Sanctuary, acclaimed as the secondd largest wildlife reserve in Goa, is endowed with verdant forests and exotic wildlife species.