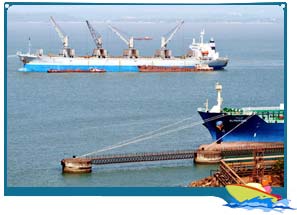 Named after celebrated Portuguese voyager Vasco da Gama, this city is a major commercial hub of Goa. Located on the narrow western tip of the Mormugao peninsula, Vasco da Gama has prospered because of the leveraging of its strategic location. The Portuguese conquered the city in 1543 and within a short span transformed it into a bustling port throbbing with maritime trade.
During its heydays under the Portuguese, Vasco da Gama was on the verge of becoming Goa's capital and frantic construction activities ensued towards that end. Even tough the plan was subsequently scrapped; Vasco still retains its old grandeur courtesy the well laid out downtown.
The city of Vasco is bereft of any major tourist attractions, the salient monument being the 400-year old St. Andrews Church located at the entrance of the city. However the Naval Aviation Museum nearby the city center is a popular tourist spot and is the only such museum in India. It profiles the evolution and history of Indian naval aviation through aircraft exhibits and rare photographs.
The excellent communication infrastructure has given a boost to tourism in Vasco da Gama. The Dabolim airport, Goa's only airport, is located 4 km from the Vasco city. Moreover it is also a key shipping center and a major railhead.