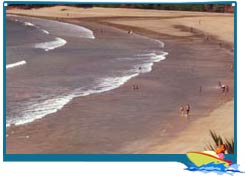 Being situated close to the airport of Goa, Bogmalo Beach can be easily reached from any part of the state. It lies at a distance of approximately 8 km from Vasco-da-Gama town. Spread over a vast expanse of land, the beach is not much visited by tourists and because of this, it retains much of its virgin charm. Though people visiting Goa have started exploring it, the rush is still on a very low scale as compared to the other famous beaches. This helps in making it one of the cleanest as well as the most peaceful beaches of the state.
The cluster of small shack restaurants on the beach has lent it a look that is quite different from the others. The occasional fishing villages seen lining the shore further add to this uniqueness. If you have become bogged down by the pollution and hectic pace of the city life, Bogmalo Beach will serve as your perfect respite. The air here is clean, the surroundings serene and the views picturesque. Even from accommodation point of view there is no problem, as a number of hotels and guesthouses are available nearby.
This coconut-fringed beach is like a heaven for those who love fishing. Apart from that, you can also indulge in swimming at the Bogmalo Beach. For the adventure enthusiasts, there are a number of water sports providing the perfect thrill. Do not forget to taste the mouth-watering cuisine available at the beach; along with the renowned Goan drink Feni. Naval Aviation Museum is one of the major tourist attractions near the Bogmalo Beach. This museum gives an insight into the working of the Indian Navy. Bogmalo Beach is just the place to visit on a tour of Goa.