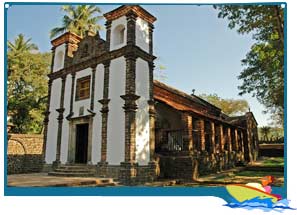 The Vasco da Gama excursions tour will include the following tourist attractions:
Miramar Beach
The Miramar beach is a bustling tourist hub due to its close proximity to the Panaji town. Miramar in Portuguese translates to 'viewing the sea,' an apt sobriquet considering the azure waters of the mighty Arabian Sea that expand into the horizon. Spread over a stretch of 2 km, the Miramar beach teems with vacationers and locals all the time. Pulsating with activities, the Miramar beach is definitely not the ideal place for those looking for a tranquil beach vacation.
Ramnath Temple
Although dedicated to Lord Rama, the Ramnath temple is the abode of other deities such as Shri LaxmiNarayan, Shri Kamakshi, Shri Santeri and Shri Sidhanath. Similar to the Mahalsa temple, the courtyard of Ramnath temple features a five-storied deepstambha or lamp pillar carved with images of Hindu on its base. The annual festival or Jatra of the temple is celebrated with fervor and devotion with the traditional palanquin parading around the temple.
Old Goa
Located 9 km to east of Panaji, Old Goa was the erstwhile capital of the Portuguese dominions in Goa. As the center of the Portuguese territory, Old Goa witnessed the profusion of magnificent churches and majestic buildings befitting the stature of the city. Old Goa has been declared a World heritage site by the UNESCO.
Bogmalo Beach
Being situated close to the airport of Goa, Bogmalo Beach can be easily reached from any part of the state. It lies at a distance of approximately 8 km from Vasco-da-Gama town. Spread over a vast expanse of land, the beach is not much visited by tourists and because of this, it retains much of its virgin charm.