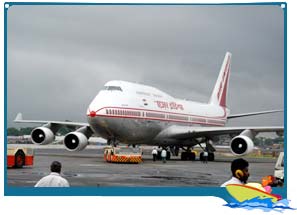 As a prominent tourist hub, Goa enjoys good airline/flight connectivity to most of the major cities in India. The Goa Airport at Dabolim near the town of Vasco da Gama is the only airport in Goa. The airport is located 4 km from the Vasco da Gama city and 29 km from state capital Panaji.
Domestic Flights to Goa
Most of the major airlines such as Indian Airlines, Air Sahara, Jet Airways, Spice Jet, Air Deccan and Kingfisher Airlines operate flights to Goa. There are highest number of flights to Mumbai and Delhi. During the peak tourist season from November to February, all the flights to Goa run to full strength and one should book the tickets well in advance.
International Flights to Goa
State carriers Air India and Indian Airlines operate international flights from Persian Gulf countries to Goa. Kuwait is the most well connected city to Goa.
Chartered Flights to Goa
International chartered flights to Goa Airport, Dabolim are the preferred mode of travel for a large number of foreign tourists coming to Goa. Chartered flights are available to and from the UK (Manchester and Gatwick) and European destinations and Russia. Most of the charter flights operate on weekends when there is no flight restriction due to the training of naval aircrafts.
Cheap Flights to Goa
A number of cheap flights are available to Goa courtesy the low-cost, no-frills airlines such as Air Deccan and Spice Jet. The Air Deccan flight DN 317 leaves Mumbai daily at 0525hrs and reaches Goa at 0650hrs. The Spice Jet flight OS 255 departs from Delhi daily at 1120hrs and arrives at Goa at 1345hrs.