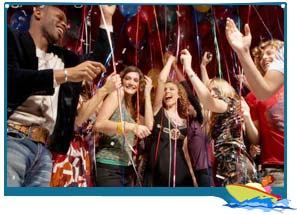 New Year celebrations are the best way to usher in a brand new year filled with expectations and promises. Goa, with its inherent party culture, is the ideal venue for celebrating the birth of a new year amid fun and frolic. Tourists and backpackers from all over the world descend on Goa to revel in the festivities accompanying the New Year celebration in Goa.
New Year in Goa translates to a lot of partying in the cool night zones of the state. The peak tourist season, which starts from November, reaches a crescendo with the New Year knocking on the door. Hotels and resorts are all decked up in anticipation of the tourist influx and feverish competition ensues to entice the vacationers with exciting New Year offers.
Although the Goan beaches are the preferred venues for New Year celebrations, the ones hoping to tread off the beaten track can opt for other places as well. You can head to a wildlife resort and celebrate the New Year in Goa by lighting a bonfire and dancing the night away. The New Year parties in Goa, whether at the beach or any resort, are full of music, dance and food and drinks. Right from the locally brewed Fenny to the much expensive Port Wine, the range of drinks available in Goa is pretty wide.
Partying till the wee hours of the night, sometimes till the dawn, is followed by some quiet and cozy moments at the beach. Even the market places of Goa reflect the frenzy and excitement accompanying New Year. Bright lights and people masqueraded as Santa signify the coming of the New Year. One can see everyone, from politicians to industrialist to models and actors ushering the New Year at Goa. This year, don't waste time deciding about your destination. Just pack your bags, take the first flight to Goa and lose yourself in the New Year celebrations.