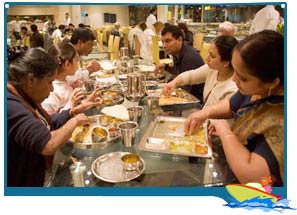 Goa beckons food aficionados from around the world with its magnificent culinary delicacies. So tourists descending on the state relish the prospect of digging on a treasure trove of exotic dishes ranging from sea foods to vegetarian fares. Besides the indigenous fare, restaurants and eateries in Goa offer continental, Chinese and various international cuisine.
Eating out in Goa will never be complete without devouring Goa's famous sea food delicacies. Step inside any restaurant and an endless variety of sea food dishes will unfold before you. Such culinary indulgences include a variety of curries, fries, soups and pickles made from prawns, lobsters, crabs, clams, ladyfish, mussels, and oysters.
Once your taste buds are satiated with the flavor of sea food, set out to binge on other indigenous delicacies such as pork vindaloo, spicy sorpotel and the ever popular Goan fish curry with rice. And yes, if the food is sumptuous can the customary drinks be far behind? 'Feni,' the alcoholic beverage made from cashew nut, is a prominent icon of Goan culture and is extremely popular with visiting tourists.