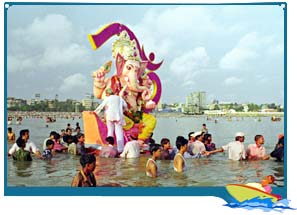 Ganesh Chaturthi is the most important festival celebrated in Goa. Observed as the birthday of the elephant-god Ganesha in the Hindu pantheon, Ganesh Chaturthi festival is marked by traditional fervor and gaiety. A festival with a pan-Indian spread, Ganesh Chaturthi in Goa holds the seat of pre-eminence among all other festivals.
Also known as Chovoth, the Ganesha Chaturthi festival usually falls on the 4th day of Bhadarva Shukla-Paksh of Hindu calendar in (August/September). During the festival, pujas are offered to the idol of Ganesha along with Lord Mahadev and Gouri. On the eve of the Chovoth day, a clay idol of Ganesh is installed in a small pandal called 'matov' made of bunches of betel nut, coconut, bananas and branches of mango-trees.
Even though the religious observations are held for a couple of days, the Ganesh Chaturthi festivities may continue for 7-10 days. On the last day of the festival, the ritual of 'Visarjan' takes place when the idol of Ganesh is carried in a colorful procession and is finally immersed in a water body.
The Ganesh Chaturthi festival ushers in a season of joyous celebration all over Goa. Besides the religious significance, the festival is an occasion for family members to reunite and seek the blessings of Lord Ganesha.