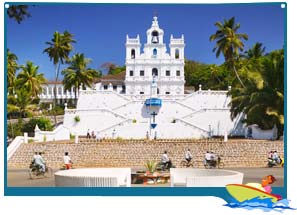 Located along the banks of River Mandovi, Panaji is the capital of Goa. Once a nondescript fishing village, Panaji started to gain prominence during the second half of the 18th century when the erstwhile power center of Old Goa gradually faded into oblivion. On March 22, 1843 Panjim was conferred the status of a city and was rechristened `Nova-Goa' or New Goa.
As the Portuguese strengthened their hold over Goa, Panaji developed into a vibrant city bustling with commercial and tourism activities. The Christian rulers built some of Goa's most majestic churches here. The quaint villas and pretty houses with red roof tiles present an enchanting spectacle in Panaji. Most of these buildings bear the hallmark of Portuguese architecture.
As the state capital, Panaji figures prominently in Goa's tourism scenario. It houses some of the prominent government offices and educational institutions. The 15th century palace of Sultan Adil Shah, now housing the government passport office, is a major landmark of the Panjim city. Other major tourist spots include the Dona Paula beach, a bevy of ancient churches and the Braganza Institute.