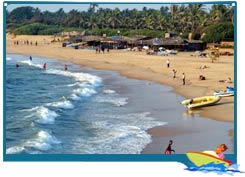 Candolim Beach is situated in the northern side of Goa. It is the perfect place for those who have come on a vacation to forget the tensions of their daily life and intend to spend their time relaxing and rejuvenating. Though it doesn't boast of too many facilities, the beach can surely be your answer to the serene surroundings that you are looking for. The lip-smacking cuisine available at the food stalls lining the Candolim Beach of Goa will only serve to complete the delightful experience.
All you need is a mat and a beach umbrella and you can spend the entire day sipping in the delights of nature. The surroundings are so calm and serene that you can even indulge in yoga and meditation. Even the rush is not too much, mainly because of the fact that there are no resorts around the beach. Candolim Beach is the first beach that can be approached from Panaji, the capital city of Goa. With youngsters, monks, artists, researchers, tourists and adventurers, the crowd of Candolim is quite varied.
However, all of them have the same purpose, to lose themselves in the tranquility of the place and forget all their frustrations. For those who love adventure, there are a number of options for water sports, like parasailing and water skiing. The scrub-covered dunes augment the magnificence of the, otherwise, plain and sandy Candolim Beach. While visiting the beach, do not forget to have a look at the famous Aguada Fort, built by the Portuguese in the year 1912, along with the church and the lighthouse.