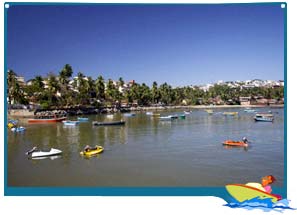 One of the most well-known among Goa beaches, the Dona Paula beach attracts tourists with its scenic landscape dotted with palm trees and casuarina groves. An aura of eeriness engulfs the beach, partly due to the legend associated with it. Locals say that the beach derives its name from Dona Paula de Menzes, who was the daughter of a viceroy during the colonial yoke. When she was refused permission to marry a local fisherman, Gaspar Dias, the heart-broken lady took her life from jumping off the cliff.
Apart from legends and spirits, Dona Paula's claim to fame is its popularity as a shooting destination for Bollywood movies. Bigshots of the film industry throng this beach in search of picturesque locales. The Dona Paula beach is also a haven for adventure sports buffs for the water sports facilities available here. You can indulge in water sports such as water-scooter, motorboat rides, windsurfing, parasailing, water-skiing, snorkeling, kayaking, and yachting. The water sports festival held in November draws a large number of participants.
While the adventurous ones enjoy a gala time in the high seas, mundane souls can just stroll around or scour the nearby shops for souvenirs and artifacts. Local vendors sell straw hats, lace handkerchiefs, and spices in these shops. If all this fails to pep you up, sips of Feni and port wine, two Goan liquor specialties will surely do.
How to Reach Dona Paula Beach
Buses and taxis are available from Panaji to the beach. The Dabolim Airport is located 29 km from Panaji and the Kadamba Bus Terminal is the central bus hub of the town.