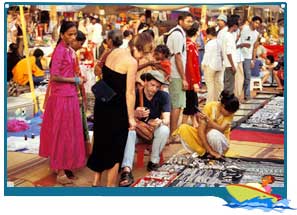 Whenever we descend on a foreign location for vacationing, shopping for keepsakes is regarded a task as essential as the regular sightseeing tours. While Goa is famous for its splendid beauty, it is also a shopper's paradise with a vast wealth of indigenous artifacts. But more than the shopping items, it's the composite shopping experience in Goa that will leave you mesmerized.
The real joy of shopping in Goa can only be experienced in the local markets and the flea markets in the Goan beaches. These bustling local markets are a kaleidoscope of rural Goa with villagers of the neighboring areas bringing their agricultural produce. The Friday market of Mapusa is particularly famous among the local markets. The Goa beaches too are shopping havens with noisy vendors feverishly trying to outbid each other. The Wednesday flea market of Anjuna beach is world famous with an astounding variety of shopping attractions.
As far as the shopping items are concerned, you will get the opportunity to choose from a wide range of artifacts and momentos. Artifacts made of shell work, bamboo work, brassware, curios and old coins, trinkets made of stones and corals, artifacts made of papier-mache, carved furniture, and beachwear are some of the popular entries in shopping carts.
While you bask in this shopping extravaganza, make it a thumb rule to bargain to your heart's content. In most cases, the quoted price is far higher than the actual price and use your persuasion and negotiation skills while bargaining with the feisty Goan vendors.