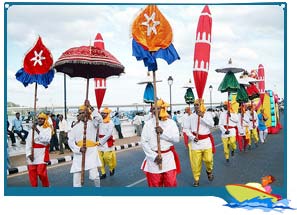 One of the most colorful festivals in Goa, Shigmo is celebrated by the Hindu majority with joyous festivities and elaborate parades. On the eve of Shigmo, usually observed in the month of March, a fiesta of color and rich cultural heritage unfolds across the length and breadth of Goa. Also known as Shigmotsav, the festival spans over a fortnight, with different days earmarked for celebrations in diverse areas.
Celebration of Shigmo begins with Naman or collective obeisance of villagers from 9th moon day to full-moon day. During the intervening period village folks bedecked with colorful attire usher in a festive atmosphere by dancing and singing folk songs in temple courtyards. Festivities reach a climax on the 5th day called "Rang Panchami" when people smear each other with 'Gulal' or red-powder. As such Shigmo is often called the Goa's version of Holi.
The annual Shigmo parade held on Panaji's 18th June Road is the cynosure of Shigmo celebrations. The parade is a kaleidoscope of Goa's Hindu roots as folk dancers resplendent in traditional costumes and elaborately designed floats depict scenes from Hindu mythology and epics.