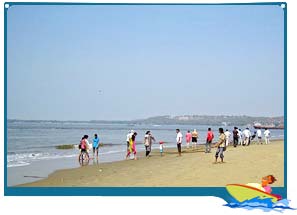 Located 3 km from Panaji, the Miramar beach is a bustling tourist hub due to its close proximity to the town. Miramar in Portuguese translates to 'viewing the sea,' an apt sobriquet considering the azure waters of the mighty Arabian Sea that expand into the horizon. The beach was previously known as the Gaspar Dias beach.
Spread over a stretch of 2 km, the Miramar beach teems with vacationers and locals all the time. Pulsating with activities, the Miramar beach is definitely not the ideal place for those looking for a tranquil beach vacation. Apart from tourists, the beach also serves the cause of the people of Panaji, quite a few of whom come here an evening stroll.
Panaji is just a fifteen-minute walk along the riverfront avenue called Dayanand Bandodker Marg, named after Goa's first chief minister. From the Miramar beach one can enjoy a panoramic view of the Aguada fort just across the Mandovi River. Due to its urban nature, accommodation is not a problem in the Miramar beach and a number of beach resorts and hotels are located in close vicinity.
How to Reach the Miramar Beach
Regular bus and taxi services are easily available from the Panaji city. The nearest airport to Panaji is Dabolim (29 km).