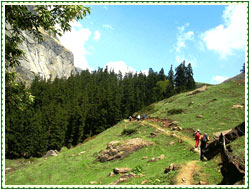 Himachal Pradesh boasts of a very diverse geography. The southern part of the state is situated at lower altitude and has almost the same climate as the plains of India. On the other hand, the northern region of Himachal Pradesh is situated at a very high altitude and mainly comprises of the hill stations. Thus, it has a temperate summer and an extreme winter, with freezing cold and heavy snowfall greeting the visitors coming at this time.
Depending upon the part of the Himachal Pradesh you are planning to visit, the ideal time might vary a little. For visiting the hill stations of Himachal Pradesh, the months of April, May and June are considered to comprise of the peak travel season. During this time, the hill stations experience cool mornings and nights, while the day is very pleasant. However, if you want to see snowfall, head for the hills in December-January
This is the time when the entire place seems to be enveloped in a white cloak of snow. Those who love the lush greenery of hills should head for Himachal Pradesh in July to September. These months make up the monsoon season in the state, when the streams and springs swell with water and rainbows lend a heavenly hue to the surroundings. For visiting the plains, the winter season, comprising of the months of October to March, is the best.