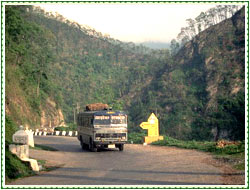 Himachal Pradesh is located in jagged terrains just below the mighty Himalayas in India. This makes traveling to Himachal Pradesh a bit tough, though not completely impossible. The advent of technology has made reaching Himachal Pradesh quite simple from nearby towns and cities. The place is well connected by air, railways and roads. In case you are still thinking about how to reach Himachal Pradesh, the information given here shall be of aid.
By Air
There are three domestic airports in Himachal Pradesh that are situated at Bhuntar, Gaggal and Jubbarhatti. These airports connect Himachal to Delhi and Chandigarh. Jubbarhatti is the nearest airport to Shimla, the capital of the state and is 23 km from the city of Shimla. It is connected well with Chandigarh, Kullu and Delhi.
By Train
The rugged terrain and high altitude of Himachal Pradesh makes it difficult and tricky to lay railway lines. However, this place has both broad and narrow gauge tracks. The longest railway line that connects Himachal to Punjab is Pathankot - Jogindernagar line. The famous Toy train that connects Shimla to Kalka offers scenic views and is quite enjoyable. Kalka is well connected to other major cities of India. Other important railway stations in Himachal Pradesh are Solan and Una.
By Road
The uneven topography of Himachal makes its roads treacherous and dangerous during winters and monsoons. However, its long winding roads also make an excellent drive with splendid and breathtaking views in good season. The important cities and towns of Himachal Pradesh are well connected by a fine network of roads. The ones on higher altitudes are closed in winters and monsoons due to snowfall and landslides. There are regular bus services from Amble, Chail, Chandigarh, Dehradun, Delhi, Kullu, Manali, Mandi, Pathankot and Shimla. One can also hire taxis from nearby places to reach Himachal Pradesh.