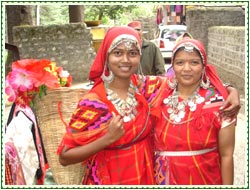 Himachal Pradesh is a state that is located in the foot of Himalayas in India. The rugged terrain and varying altitude leads to in drastic temperature change in this region. There may be sudden change in temperatures due to rainfall in upper altitudes due to which the temperature here drops. Woolens are the best clothes to wear in Himachal Pradesh. If you are traveling in summer months, you may carry light weight clothes, but a couple of light woolens should be taken along in case the evenings suddenly get chilly.
People of Himachal know how to dress up beautifully. They add a dash of colors to almost every outfit they wear. The nomadic tribes are known to wear 'Kurtas' that are embroidered in intricate patterns. People from Chamba use several unique accessories such as colorful scarves known as 'rumals' that are worn by women as a head cover. Tourists too can try out these outfits as they can be easily purchased in any local garment shop.
To keep yourself warm, you can try out the famous 'Kullu Topi' or cap, which is made of very soft wool and fur and is available in a variety of colors. The double-sided silk 'rumals' of Chamba are very popular and look very stylish when worn as scarves and stoles. The designs embroidered on them depict scenes of Mahabharata, Ramayana and other great epics. Woolen garments and fine shawls are considered a specialty of Himachal. Even if you do not have a good stock of woolen clothes with yourself while traveling here, you can always buy warm shawls, hand-knit socks and sweaters from Himachal Pradesh.