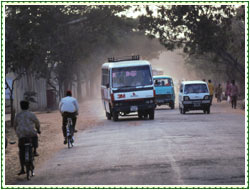 Himachal Pradesh is easily accessible for the tourists, by road, rail as well as by air. Infact, the state today holds the number one position amongst all the hill states of India, for road density. However, the rough and uneven terrain of the state has acted as a major constraint on the development of transport infrastructure, resulting in it not being as developed as the plains. Despite that, Himachal Pradesh is flocked by tourists during on and off season. In this article, we will provide you information on the local transport in Himachal Pradesh. This public transportation guide will come in handy while moving from one city to the other.
Trains
Pathankot-Jogindernagar line is the longest railway line in Himachal Pradesh, which connects the state with Punjab. Kalka is one of the most important railway junctions in the state. Apart from that, there are railway tracks passing through Shimla, Solan and Una also. However, for reaching Shimla, you need to take the narrow gauge railway line from Kalka.
Buses
State transport, as well as private, buses are easily available in Himachal Pradesh, for traveling from one city to another as well as for moving within the city. The charges are very nominal and the journey pretty smooth. There are regular bus services connecting Shimla, Kullu, Manali, Chail, Solan, etc.
Taxis
Taxis are one of the most popular modes of public transport in Himachal Pradesh. You will easily get inter-city as well as intra-city taxi services in the state. However, taxis are mainly suggested in case of inter-city travel. For intra-city travel, go for a taxi only if you have a large group, otherwise it will fall very expensive.