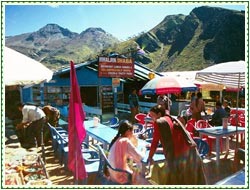 Since Himachal Pradesh is located on a hilly terrain, the availability of vegetables and other food items is a challenge. Thus, food is kept simple and easy to cook with generous amount of 'Ghee' added to it to make it tastier. Lots of spices such as cardamom, cinnamon, cloves and red chilies are used for cooking food. The normal spread for lunch and dinner is made up of traditional North Indian cuisine that includes rice, lentil broth, dish of vegetables and unleavened bread. The restaurants in Himachal Pradesh also provide lip smacking delicacies to visitors. As long as you are here, you won't have to think about what to eat in Himachal Pradesh.
Himachal Pradesh is famous for quite some delicacies that are sure to leave you asking for more. One of the most famous delicacies here is known as Madra, which belongs to the Chamba region. It is made up of kidney beans or Rajmah cooked on slow fire in yoghurt and ghee using about twenty spices. 'Luchi Poti' or intestines of lamb is another delicacy of Himachal Pradesh that is served in many restaurants. In rural areas, shepherds and other nomadic tribes have 'Makki' or lentils cooked with generous doses of spices along with buttermilk known as 'Chhach'.
The main meal is followed by 'Khatta', a kind of sweet and sour sauce made of tamarind and 'gur' (jaggery). Dessert comes at the end of sweet rice mixed with raisins and dry fruit known as 'Mittha'. These courses are served exclusively on leaf plates. The restaurants of Himachal Pradesh offer not just the distinctive Himachal cuisine but also offer South-Indian, Thai, Italian and Chinese cuisines in their menu. Other delicacies often served in Himachal Pradesh include Tibetan and Japanese cuisine. In Himachal Pradesh, you wouldn't find a dearth of restaurants and will also get to savor local delicacies.