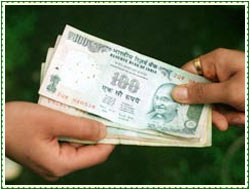 Himachal Pradesh is amongst the most visited states of India. It is frequented by locals as well as foreigners in large numbers. The currency of the state is same as that of the whole of India, Indian rupee. In Himachal Pradesh, currency is available in the denomination of Rs 1, 2, 5, 10, 20, 50, 100, 500 and 1000. Rs 1, 2 and 5 are available in the form of both notes as well as coins, though the latter is more prevalent.
Rs 10, 20, 50, 100, 500 and 1000 are available in the form of notes only. Just like the rest of the world, Himachal Pradesh also boasts of wide usage of plastic money (debit and credit cards). Still, you are advised to carry hard cash with you at all times, including some loose change. Currency exchange is not at all a problem in the state. To help you out with the exchange part, we have provided information on money exchangers in Himachal Pradesh, in the following lines.
Shimla
Grindlays Bank Limited (The Mall)
H.P. State Co-Op. Bank (The Mall)
Indian Bank (The Mall)
Indian Overseas Bank (The Mall)
Jammu And Kashmir Bank (The Mall)
Punjab and Sind Bank (The Mall)
Punjab National Bank (The Mall)
State Bank of Patiala (The Mall)
Other Cities
In case of the all the other cities in Himachal Pradesh, you can get your currency exchanged at the authorized hotels and banks. Infact, most of the five-star and four-star hotels in the state offer this facility to their guests. In the hotels that do not provide you such facilities, the officials will guide you to a genuine and authorized foreign currency exchanger. Apart from that, you can always get the currency exchanged at the airport, after touching down.