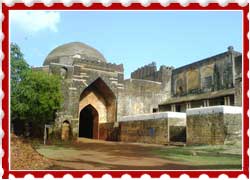 Originally built in 8th century and strengthened and renovated in 1428 by Sultan Ahmad Shah Bahamani, the Bidar fort boasts of a dominating presence in the Bidar landscape. Nestled inside this moated fort is the royal town dotted with crumbling ruins of the bastions and gates, royal baths and kitchens, audience halls, and pleasure pavilions.
Among the congregation of royal palaces, the Rangin Mahal stands out for its sheer elegance and exquisite carvings. Used as the royal residence, this magnificent palace was built by Ali Shah Barid in the 16th century. This exquisite palace is renowned for the profusion of beautiful wood carvings, fascinating glazed tile mosaics and mother-of-pearl decorations which bear the hallmarks of Persian architecture.
The Solah Khamba Mosque, built in 1327, is another prominent structure inside the fort. One of the largest mosques in India, the Solah Khamba mosque presents an imposing picture with its massive circular columns. Other attractions include the Gagan Mahal, the Diwan-E-Am (the public Audience Hall) where the fabulous turquoise throne once rested, the Takhat Mahal, the Royal Pavilion, and the Naubat Khana.