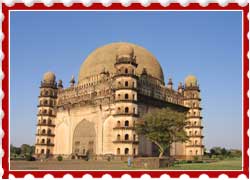 Gol Gumbaz is the mausoleum of Muhammad Adil Shah (1627 -56), the seventh ruler of the Adil Shahi dynasty. A fine specimen of Adil Shahi architecture, this mammoth tomb is a dominant landmark of Bijapur. The construction of the Gol Gumbaz was completed in 1659, after 20 years of meticulous craftsmanship.
The chief attraction of the mausoleum is its central dome, which is second in size only to the dome of St Peter's Basilica in Rome and stands unsupported by any pillars. Another astonishing facet of the Golgumbaz is its whispering gallery, which is an acoustic marvel. The gallery has been designed in such a way that the tick of a watch or the rustle of paper can be heard across a distance of 37m and the faintest sound is echoed eleven times over.
The tombs of Sultan Adil Shah, his two wives, his mistress Ramba, his daughter and grandson are located under the central dome. The octagonal turrets which project at an angle and the huge bracketed cornic below the parapet, are important features of this monument. From the gallery around the dome, which can be reached by climbing up the turret passages, one can have a fabulous view of the town.