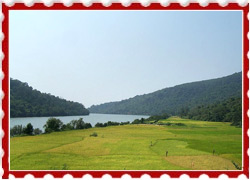 Min Temperature:
22
0
C (Summer), 10
0
C (Winter)
Max Temperature:
40
0
C (Summer), 32
0
C (Winter)
Best Time to Visit:
October to May
Karwar, the administrative headquarters of Uttara Kannada district, experiences a tropical climate. The place gets drenched by rains almost throughout the year, keeping the temperature moderate. Being bounded by mountains on one side, Karwar boasts of a pleasant weather, with cool breezes soothing the mind as well as the body. The best time to visit the place is from October to May. In case you want to get more information on the weather and climate of Karwar, go through the following lines.
Summer
The summer season in Karwar starts in March and lasts till the month of May. During this time, the place experiences moderately hot weather, with the temperature hovering in the range of 40
0
C to 22
0
C.
Monsoon
The monsoon season in Karwar lasts from June to October. Though the place experiences rainfall almost throughout the year, it is at its most around this time. The humidity levels are at their highest and so is the greenery.
Winter
The months of November witnesses the onset of winter in Karwar, which comes to an end around February. In this period, the temperature remains in the range of 32
0
C to 10
0
C, making the weather cool and pleasant.