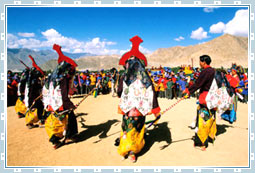 The fairs and festivals of Ladakh present an opportunity to the people to celebrate and enjoy themselves. They interact with each other, form new bonds and renew the old ones. It is interesting to note that most of the fairs and festivals of Ladakh take place during winters, which is the idle time for people. Before you plan your trip to Leh and Ladakh, have a look at major fairs & festivals of the region.
Hemis Festival
The biggest and the most popular festival of Ladakh is Hemis. The festival is celebrated in later half of June or the first half of July. Hemis festival is celebrated to commemorate the birth of Guru Padmasambhava. The legend has it that he fought with demons to protect the people of Ladakh. On this day, after every 12 years, a huge thangka, a religious icon painted or embroidered on cloth, is displayed.
Dosmoche Festival
Dosmoche, the festival of the scapegoat, is celebrated in the second half of February to welcome the New Year. A wooden mast is adorned with streamers and religious emblems and storma, ritual figures moulded out of dough, are brought out to be cast away into the desert, or burnt. It is believed that these scapegoats carry away the evil spirits of the old year and the town gets cleansed for the new year.
Losar Festival
Losar festival is celebrated to welcome the Ladakhi/Tibetan New Year. There is no specific date or location for the festival. It is celebrated for 2 weeks in December or January, depending on the lunar calendar. During Losar, offerings are made to the gods by the Ladakhis. Numerous ancient rituals are carried out as a part of the celebrations like the stage fights between good & evil, dance of the Ibex deer, dramatic battles between the King & his ministers etc.
Sindhu Darshan Festival
Sindhu Darshan is a festival focuses on river Sindhu, also known as the Indus. The Government of Jammu and Kashmir organizes the Sindhu Darshan festival at Leh in the month of May-June. In this festival, people come for a Darshan and Puja (worship) of the River Sindhu (Indus). The Sindhu River is regarded as a symbol of the rich culture, communal harmony and peaceful co-existence in India. It also acts as a tribute to the brave soldiers of India who have bravely fought for their country.
Ladakh Festival
The celebrations of the Ladakh festival last for 15 days, usually from 1st September to 15th September. Music, theatre, polo, archery, mask and folk dances, showcasing of the local arts and crafts, etc are the highlights of this festival. The main objective behind the festival is to revive and promote the rich culture, traditions and folk heritage of Ladakh.
Tak-Tok Festival
The Tak-Tok festival is celebrated in summers at cave Gompa of Tak- Tok. One of the major festivals of Ladakh, it adds to the tourist attraction of the region.