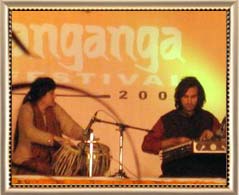 Banganga Festival is one of the popular festivals of Mumbai, which is organized by the Maharashtra Tourism Development Corporation (MTDC), in association with the Indian Heritage Society of Mumbai. The festival takes place on an annual basis, in the month of January and lasts for two days. Banganga Festival basically celebrates the medium of music and rhythm. Through this festival, the Government aims to pay a befitting tribute to the heritage of Mumbai.
The venue of Banganga Festival is the Banganga Tank, which dates back to the 12th century. The tank has a number of temples within its complex and serves as the perfect background for the musical extravaganza. Renowned classical musicians, from various parts of India, come to be a part of this prestigious festival. Banganga Festival was first organized in the year 1992 and since then, has formed a part of the festival calendar of the city every year.
It also aims at promoting awareness about the tank as well as its conservation. Banganga Tank has been associated with Lord Rama, as per the legends, and this is what makes the festival more appealing. Banganga Festival presents the perfect opportunity to people to spend some time in the house of God, amidst the recitals of soothing classical music. Just come here to let your soul appease itself with the music and to let your eyes take in the mesmerizing views of the sunsets.