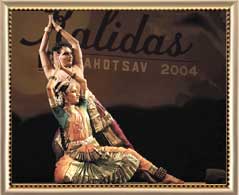 Kalidas Festival is organized every year in Nagpur, in the month of November. It is basically a musical and dance extravaganza, which also has performances by theatre artists. The exact venue of the festival is the Ramtek town, which is situated in the Nagpur district and is known for its association with Lord Rama. Ramtek is also the place where Kalidas wrote his famous poetry Meghdoot, inspired by the beauty and serenity of the surroundings.
Infact, he also wrote Kumaarasambhava and Ritusamhaara, his other poetic works, here itself. This is one of the main reasons why this small town has become the venue for Kalidasa Festival, dedicated to the great Sanskrit poet and dramatist. The festival endeavors to take us back in time, when Vidarbha region was experiencing its golden period. It is more of a tribute to Kalidas and his contribution to the field of poetry.
One can see excellent performances by some of the most established names in the field of music, dance and drama, celebrating the rich legacy of the Ramtek town. Kalidas Festival also aims at promoting the Vidarbha region and its rich heritage throughout India as well as abroad. So, whenever you happen to be in or around Nagpur in the month of November, try to visit the festival and be a part of its celebrations.