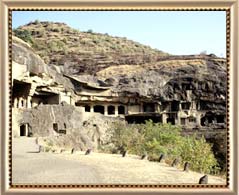 Aurangabad Caves lie nestled in a valley, between Sihyachal and Satara hill ranges. Dating back to somewhere around the 2nd - 3rd century, these caves serve as the proof of the flourishing Buddhist settlement in Maharashtra during that time. They are located on the outskirts of the Aurangabad city of India and are counted amongst one of its major tourist attractions. The twelve caves situated in the valley have been divided into three major groups. The groups have been based on the location of the caves.
The first group of caves lies in the western side of the hill on which the Aurangabad Caves have been found. It is made up of cave number 1, 2, 3, 4 and 5. The second group of caves is situated on the eastern side of this hill. It has been included with cave number 6, 7, 8 and 9. The distance between the two is not more than 500 m. The last and the third group of caves do not fall within the boundaries of Aurangabad city and lies to the east of the second group. It includes within itself, cave number 10, 11 and 12.
The first excavation that was carried out at the site of Aurangabad caves revealed only two caves, cave number 1 and cave number 3. The rest of the caves were unearthed later on. The rock formation of the Aurangabad Caves is of a heterogeneous nature and this has become a hurdle in carrying large scale excavations at the site. Infact, many portions of these caves are so unstable that the caves have been left unfinished. The cave number one is also an unfinished one. Even its verandah has fallen down because of its shaky rock formation.
Of all the Aurangabad Caves, one of the most remarkable caves is cave number 3, which is basically a Chaitya Griha, belonging to the Hinayana sect of Buddhism. The cave number 2 enshrines an idol of Lord Buddha and looks very much like a vihara. Apart from these two caves, all the others are believed to have been built during the reign of the Kalachuri dynasty. Cave number 7, being adorned with sculptural embellishment, is the most magnificent one of the Aurangabad Caves.
There is a shrine, situated right in the heart of the cave, with an outer corridor surrounding it. The recesses in the corridor have images of Buddhist Gods and Goddesses, carved with utmost precision. This cave also has a verandah, with its front fall decorated with a splendid representation of a panel of litany of Avalokitesvara and Bodhisattva. The litany symbolizes Bodhisattva Padmapani in the form of the 'Savior of Eight Great Perils' (Fire, Theft, Demon, Elephant, Lion, Shipwreck, Snake and Monkey). The panel of Tara, principal consort of Lord Avalokitesvara, is also worth having a look at.