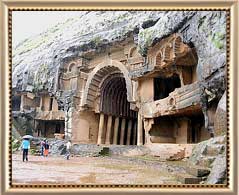 Bhaja Caves are one of the popular Buddhist caves in India, which are situated in the Aurangabad District of Maharashtra. The caves, lying 60 km from Pune city, are believed to date back to as far back as the 2nd century, when the Theravadin phase of Buddhism was still in its earliest stages. The time when the caves were chiseled coincided with the period when the Mauryans were still ruling over India. The caves found at Bhaja are approximately eighteen in number and have been dedicated to Lord Buddha.
Throughout the caves, one can see exquisitely chiseled images of the Lord. Amongst these are the ones that represent Lord Buddha in a symbolic form, while others have been based on the events that took place in His Life. Apart from that, we have the carvings depicting lotus or elephant, which symbolize His birth. The Bodhi Tree, under which Lord Buddha ultimately attained Nirvana, has also been chiseled on the walls of the Bhaja Caves. Amongst all the eighteen caves at Bhaja, the most significant one is cave number 12.
It is the biggest of all caves and comprises of a prayer hall within its premises. Serving as an ornamentation of cave 12 are ancient Buddhist architectural designs, a tilted vault being one of them. Bhaja caves also include a number of viharas within their complex and these are, today, being used as residence by Buddhist monks, who are receiving their education here. The other awe-inspiring features of the caves consist of beautiful stupas, which stand adorning their interiors as well as exteriors.
The last cave situated at Bhaja boasts of a magnificent structure, which depicts a 'Dancing Couple'. There are a number of figures in Bhaja Caves that symbolize Lord Buddha. They include a mound that symbolizes His death and a throne that reminds one, of the life He led as a prince. Located near the entrance of the caves is a temple dedicated to Goddess Ekvira. To the right of the temple is a towering pillar, with three lions at its top. In short, the woodwork-based architectural design of Bhaja Caves is definitely worth having a look at.