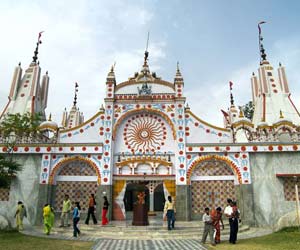 The famous Devi Talab Temple is situated in the heart of Jalandhar city, just 1 km from the railway station. It is believed to be more than 200 years old. The temple is dedicated to Goddess Durga and is one of the 51 Shakthi pithas in India. The image of Lord Shiva that is enshrined herein is called Bhisan Bhairav. Devi Talab Temple has been renovated recently and a number of changes have been made to the old structure. Also, a new temple has been constructed within the temple premises. Even a model of Amarnath Yatra was constructed sometime back only.
Beside the main Devi Talab Mandir, is an old temple of Goddess Kali. One of the prime attractions of the temple is an old tank, which is considered to be sacred by the Hindu devotees. The temple has a structure resembling the Amarnath Cave temple in Jammu and Kashmir. Devi Talab Mandir. The temple is very famous for the "Harballabh Sangeet Sammelan", which is organized every year in the month of December. The best time to visit the temple is in the month of December, when one can also be the part of the fair.
The main purpose of Harballabh Sangeet Sammelan is to promote Indian classical music on a wide scale. Famous classical music exponents - both instrumental and vocal - come together and perform in this fair. It presents people with one of the chances to hear some of the best music, as presented in the melodious voice of the reputed singers from all over the country. Also, it is a golden chance for the artists to address their performance to a mass audience. Another encouraging aspect of the Sammelan is that its organizers offers free tickets, along with free accommodation and food as well.