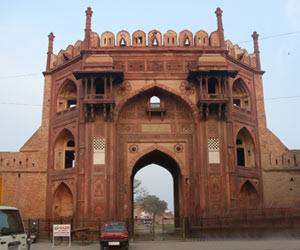 The small town Nurmahal, situated near Jalandhar, is famous for Serai Nurmahal, which was constructed for the travelers visiting the town. It is a historical inn, built by Nurjahan as an oriental example of oriental architecture. Nurjahan, the wife of Mughal Emperor Jehangir, built it with the help of Nawab Zakariya Khan, Governor of the Doab, between 1619 and 1621 A.D. Nurmahal went through series of plunders and attacks by rulers like Nadir Shah and Ahmad Shah. Finally, the town was won over by the Talwan Rajputs, who subsequently recovered the Serai. The whole structure of the Serai Nurmahal is in the form of quadrangle, consisting of 140 cells, spread over the four sides of the structure.
Serai Noormahal has two-storied towers, which are octagonal in shape, with three cells on the basement. Between the two gateways, the eastern one is simple, while the western gateway is beautifully embellished. The entrance is arched and its spandrels are beautified with lotus medallions. On either side of the spandrels are projecting domed balconies, supported on four pillars topped with carved brackets. The space in between the pillars is closed with low stone railings, showing fine pierced tracery work. To the corner of the gates are added guldastas, which rise above the battlements of the terrace. There is also a well and a mosque in its quadrangle. The filigree work and tiles decorated in beautiful patterns are the main attractions of the Serai.
Nurmahal
Nurmahal is a small town in Punjab, situated on the Lohian Khas-Nakodar-Ludhiana line of the Northern Railways. Situated 33 km from Jalandhar town, it forms an important tourist place of Jalandhar district and is a Class II municipality. The town is also connected with its sister towns of Phillaur and Nakodar by a road that goes side by side with the railway lines. The town has been built on a place where an ancient town called Kot Kahlur was located. This is testified by the bricks and coins found beneath the soil of the town. The town derives its name from Noor Jahan, the queen of Jahangir who is believed to have spent her childhood here.