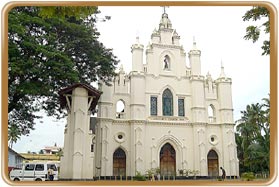 Tamil Nadu is one of those places, which saw the emergence of Christian religion in India. It is believed that St Thomas, the apostle of Jesus Christ came to Madras (now Chennai) around 52 AD. He was killed in the year 78 AD and a church was later built on the San Thome beach. Later on, with the coming of the Europeans in India, Christianity spread not only to Tamil Nadu but also to other parts. As the Christians settled in Tamil Nadu their place of worship (Churches) also started dotting the religious landscape of the state. Have a look at some important Churches of Tamilnadu.
Velankanni Church
The Velankanni Church in Chennai was built in honor of Our Lady of Health, the Madonna of Velankanni. Though this Church is smaller in scale than the original one at Velankanni but is famous for the miraculous curative powers.
San Thome Cathedral Basilica
San Thome derives its name from St Thomas, the apostle of Christ who came to Madras around 52 AD and was killed by some fanatic on St Thomas Mount in 78 AD and was interned on the San Thome beach. Many years later, another church was built and his mortal remains were transferred from the old church to the new one. Again in the year 1606, the church was rebuilt as a cathedral and it was made a basilica in 1896. The Basilica has many beautiful stained glass windows that portray the story of St Thomas whereas the central hall has 14 wooden plaques highlighting the last days of Jesus Christ. Another interesting thing in the cathedral is a 3ft. high statue of Virgin Mary, believed to have been brought from Portugal in 1543.
St Mary's Church
St. Mary's Church of Chennai is the oldest Anglican Church in India, which was built in 1680. The tombstones in the courtyard of the St Mary's church are the oldest British tombstones in India. It is interesting to note that the marriages of Robert Clive and Elihu Yale were solemnized here.
C.S.I. Holy Cross Church
The CSI Holy Cross Church is more than 120 years old and was originally called the Perambur Railway Church, as it was under the Railway authorities earlier. The congregation at the Church consisted predominantly of Anglo-Indians of the city though there are families from other states now.
St. George's Cathedral
The St. George's Cathedral is a magnificent piece of architecture and was built in the year 1815. The highlight of St. George's Cathedral is the graveyard just adjacent to it. The guardrail of the Cathedral is made up of war emblems- muskets, bayonets etc that were captured from Srirangapatnam in 1799.