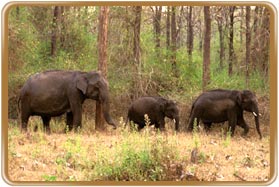 The state of Tamil Nadu boasts of a rich flora and fauna. To preserve the rich natural heritage of the state many National parks and wildlife sanctuaries have been set up over a period of time. These National parks and sanctuaries not only help in the protection of the invaluable animal and plant life but also attract a large number of visitors.
Guindy National Park
The Guindy National Park is spread over an area of about 27.6 sq. km and is situated in Chennai district. Chennai is the nearest railhead and airport. The park was set up in 1976. The main fauna life at the National the park is chital and black buck. You can visit the park all the year round.
Marine National Park
This Marine National Park is located in the Tirunelveli and Ramanathapuram districts. Spread over 21 islands, the Marina National park covers an area of 6.25 Sq Km. Tuticorin is the nearest town and railhead while the nearest airport is at Madurai. The fauna consists of several species of birds, hare, squirrel, dugong, sea turtles dolphin etc. The ideal season for visiting the park is October to March.
Anamalai Wildlife Sanctuary / Indira Gandhi National Park
The Indira Gandhi national park is located in the Coimbatore district and spread over an area of 118 sq km. Coimbatore is the nearest airport, 80 km away while Pollachi is the nearest railhead, 35 km away from the park. The forests of the Park Range from tropical deciduous to semi-evergreen and evergreen represented by teak, rosewood and other tropical species. Elephant, tiger, lion tailed macaque, civet, leopard, sloth bear, Nilgiri languor, crocodile, gaur, python etc are the main animal life at the park. The ideal season for visiting the Indira Gandhi National Park is October to May.
Madumalai National Park
The Madumalai National park is situated in the Nilgiri district and extends over an area of 230 Sq Km. The nearest town from the park is Gudalur, 16 km away while the nearest rail head is Octacmand, 64 Km from the park. Coimbatore is the nearest airport, 160 km away. The Madumalai National park consists of tropical moist deciduous hill forests. There are thick forests of teak and eucalyptus.
Point Calimere Sanctuary
In Tamilnadu, there is no end to your wildlife adventure and exploration as we take you to yet another wildlife sanctuary- the Point Calimere Sanctuary. Spread over an area of about 17.26 sq km and surrounded by sea and shore, Point Calimere Wildlife Sanctuary is situated in the Nagapattinam district of Tamilnadu.
Tiger, panther, sloth bear, wild dog, elephant, mouse deer, gaur, etc are the main fauna at the park. Black woodpecker, Malabar gray hornbill, barber, owl, hawk eagle, green pigeon and parakeet represent the bird life at the park. The ideal period to visit the Madumalai national Park is from February to May and again from September to October.