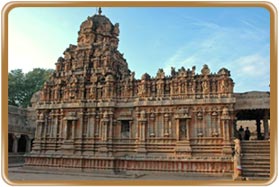 Thanjavur, which is popularly known as Tanjore, is situated between the city of Tiruchirapalli and the Coromandel Coast. This ancient citadel of Cholas lies 60 kilometers east of Trichy and nearly 330 kilometers south to the city of Chennai. The city of Thanjavur is named after a demon by the name of Tanjan-an asura. According to the legend the last wish of the demon was that the place should be named after him. Thanjavur has the pride of being the best among the best in Cholamandalam. That was because Tanjore was the capital city of mighty Cholas. The place remained the capital city of the Cholas for 9th century to 13th century A.D barring a brief period during the reign of Rajendra Chola when the capital was briefly shifted to Madurai.
The probable reason why Thanjavur was selected as the capital city was because Thanjavur has got the most fertile of lands in Tamilnadu. This is the reason Thanjavur is still known as the 'Granary of South India'. Thanjavur, the royal city, also has a rich and varied heritage for which it is known across the globe. The city has always been the center of knowledge, art and culture that reached its peak between the 10th and 14th centuries, under the reign of the mighty Cholas.
The Chola dynasty is considered one of the mightier dynasties in the Indian history and probably the mightiest in South India. Besides, Cholas come second only to Pallavas when it comes to patronizing art and craft. During their numerable campaigns in and around the then India, Cholas built many temples. These temples were built actually in order to mark their victories over other dynasties. You can get an idea of magnitude by the fact that there are no less than 70 temples built by Cholas in Thanjavur alone. The most famous among these temples is the mighty and magnificent Brihadeswara Temple.
Apart from its celebrated temples, Tanjore is also famous as the cultural capital of the peninsular India. The city is still proud of its cultural heritage and continues to be the center of classical arts and music in spite of the advent of technology era. Don't forget to catch the performances by the classical musicians, percussionists and the Bharatnatyam dancers during your trip to Thanjavur. Apart from that there is the exquisite Tanjore style of painting that attracts innumerable tourists. These paintings are unique in themselves as they are developed over multiple layers and are usually centered on the Hindu deities.