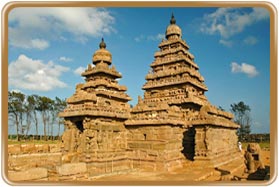 Mahabalipuram that was formerly known as Mamallapuram is one of the most frequented tourism destinations in Tamilnadu, a province in India. The place is just 55 Kilometers off Chennai, the capital city of Tamilnadu and forms a major excursion destination around it. In fact, Mahabalipuram along with Chennai and Kanchipuram forms the famous 'Golden Tourism Triangle' ashore Coromandel Coast.
Mahabalipuram is a 7th century port city of the Pallavas, a Dravidic dynasty that once ruled over the major portion of peninsular India. Typical of Orientals, there are lots of theories behind its naming. Some say that it has been named after the demon king Mahabali who was renowned for his generosity. Some maintain that it has been named after the Pallava king Mamalla. Mahabalipuram has various historic monuments built mostly between the 7th and the 9th century. The majority of these temples and monuments have been built by one or another Pallava kings. Kings of later dynasties too have done some additions and restoration works.
The most famous and magnificent monument here is the Shore Temple. This temple looks absolutely mesmerizing when lit by moonlight. Although the religious activities in this temple have been discontinued way back in the late 19th century, the temple attracts a lot of tourists everyday. Due to the architectural and heritage value attached to it, The UNESCO has crowned this historical city as a 'World Heritage Site'.
Most of the monuments here are rock-cut and monolithic. These temples are very different from the later-Dravidian era temples that were built in the reign of the famous Chola kings Raj Raja and Rajendra Chola. The temples of Mahabalipuram will thus offer a contrast amidst the high raised 'Gopurams' that are so typical in the south Indian temples. The temples of Mahabalipuram represent the early phases of Dravidian architecture wherein Buddhist elements of design can be clearly seen.
Cave temples, monolithic rathas (chariots), sculpted relief and structural temples are something that is found in the ruins of Mahabalipuram. The pillars are of the early Dravidian order where as the sculptures are predominantly Pallava in their architecture. The majestic Mahabalipuram invokes a certain kind of mystery, with its sculptural extravaganza depicting strong artistic temperament of the Pallava rulers who are considered by many as the conceivers and the driving force behind the Dravidian art movement.