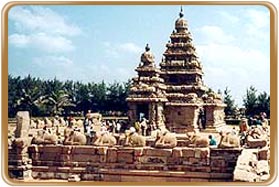 Mahabalipuram is a temple town that is situated along the Coromandel Coast 55 kilometers off Chennai, the capital of Tamilnadu. The place is famous for its Ratha temples that are a part of the famous shore temple complex. The Pallava king Narsimha built the magnificent 'Ratha' cave temples of Mahabalipuram. The beauty of the sculptural art of the rock-cut temples tells about the architectural contribution of the erstwhile Pallava rulers. These 7th century temples are regarded the pioneer of an entirely revolutionary style of architecture that came to be known as Dravidian architecture style.
These 'Ratha' temples of Mahabalipuram are commonly called the Pancha Pandava Ratha. These temples are considered pioneer of the Dravidian monolith era and mark the point of transition between the earlier tradition of rock-carved temples and the later tradition of freestanding stone structures. There are actually eight Rathas at Mahabalipuram out of which five are named after the five Pandavas of Mahabharata and one after Draupadi. The five rathas that can be seen are Dharmaraja Ratha, Bhima Ratha, Arjuna Ratha, Draupadi Ratha and Nakul Sahadev Ratha.
The interesting features among all these Ratha temples are the fact that all of them are monolith and are based on the Buddhist Viharas and Chaityas. The largest and the smallest among them are three-storied Dharmaraja Ratha and one-storied Draupadi Ratha respectively. The magnificent way in which these Monolithic Cave Temples were excavated by scooping out the scarp of the hill from front to back is a real treat for the eyes.
Apart from the famous Rathas, there are other magnificent temples in Mahabalipuram too. These temples are renowned for their Mandapas (cave sanctuaries). A Mandapa is an open pavilion or a hall with cells in the back wall and is cut out of a single piece of rock. The giant open-air relief such as the famous 'Descent of the Ganges' and the temple of Rivage, with thousands of sculptures to the glory of Shiva, are the most attractive. Both of these temples attract a lot of crowd every year.
How to Reach Rathas Temples
Air
Chennai is the nearest airport from Mahabalipuram. Flights are available for almost all major destinations in India and abroad.
Rail
The nearest railway station is Chengalpattu. You can easily get trains for Chennai and several other south-Indian cities.
Road
Mahabalipuram is well connected by road to Chennai, Kanchipuram, Pondicherry, Madurai and other towns and cities of Tamilnadu.