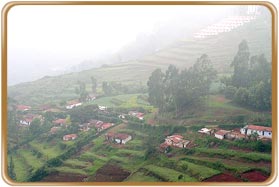 Coonoor, a beautiful and serene hill station of Tamil Nadu, lies in the Nilgiri Hills. Coonoor derives its name from the Coon hill tribe of the region. Tea bushes, Grassy meadows, profusion of Sunflowers, Marigolds and Rhododendrons characterize Coonoor. Coonoor is basically a small tea estate town where the weather remains pleasant all through the year. Based on its relief, the town is divided into upper and lower Coonoor. Coonoor is one of the three popular hill stations in the Nilgiri Hills, the other two being Ooty and Kotagiri.
Perched at an altitude of 1800 ft, Coonoor is second largest hill station in the Nilgiri Hills, Ooty being the largest one. It is extremely famous for the production of Nilgiri tea. Coonoor extends travelers with the panoramic view of the lush green Nilgiri hills, replete with deep ravines, beautiful valleys and imposing waterfalls. And if these were not enough, the hill station also extends travelers a number of sightseeing places, including Sim's Park, The Pasteur Institute, Dolphin's Nose Viewpoint, Lamb's Rock, Droog, Law's Falls and Ooty.
Coonoor forwards tourists a number of fun activities, which they can indulge in on their tour. Two such activities are nature walking and trekking. Travelers can take a walk through the tea gardens or go for a number of hiking trails around Coonoor. Apart from this, tourists can also enjoy the exhilarating and unique ride on the toy train that connects Coonoor with Mettupalayam and Ooty. The trip provides some breathtaking views of the Nilgiri hills in all its natural glory. Overall, Coonoor is an ideal place to spend a memorable and refreshing vacation in Tamil Nadu.