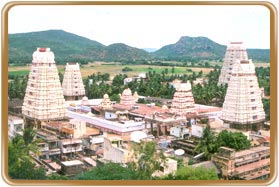 Rameshwaram is the sacred island, situated in the Gulf of Munnar at the very tip of Indian peninsula. This island is severed from the Indian mainland by Pamban Channel. The sea swept island is revered as the 'Benaras of the South'. According to legends and Hindu scriptures, Rameshwaram was the place from where Lord Rama built a bridge across the sea to Lanka to rescue his consort Sita, from the clutches of Ravana.
In the Hindu mythology it is believed that one who visits Rameshwaram attains Moksha. As one of the twelve Jyotirlingas of India, Rameshwaram has the Linga of Sri Ranganatha as the presiding deity.
Spread out in an area of 61.8 square kilometers, the island is in the shape of a conch. The Ramanatha Swamy Temple occupies major area of Rameshwaram. An epitome of Dravidian architecture, the temple boasts of the largest temple corridor in India. The temple was built over a time by a number of rulers beginning 12th century. The temple has 22 wells, all having waters with medicinal properties.
Besides being a hot pilgrim spot, Rameshwaram is also a booming holiday spot and a terrific tourist destination. You could laze around in Dhanushkodi beach. Adam's bridge runs through the Ocean with chain of reefs, sandbanks and islets that almost connects Sri Lanka with India. With wide beaches and surging Ocean, Rameshwaram offers a great tourist destination one ever craved for.