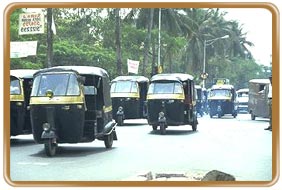 Rameshwaram is India's one of the holiest pilgrim spots. And hence reaching the place is quite easy. Although nestled in the far extreme of South India in the Gulf of Munnar, Rameshwaram is easily connected by air, rail and road.
By Air
The holy land of Rameshwaram is well connected to other major cities of India. The nearest airport is at Madurai, about 163 kilometers away. This connects you to all the major cities of India. After you get down, you can have both public and private transport to take you to Rameshwaram.
By Rail/Train
Rameshwaram is connected by rail with Chennai, Madurai, Coimbatore, Trichy, Thanjavur and other important cities. The two kilometers stretch of Indira Gandhi Bridge connects the island of Rameshwaram to the mainland of Mandapan.
By Road
The city is well connected to Madurai, Kanyakumari, Chennai and Trichy. It is also connected to Pondicherry and Thanjavur via Madurai.
Local Transportation
While traveling within the township, you may hire jeeps, auto rickshaws and even cycle rickshaw.