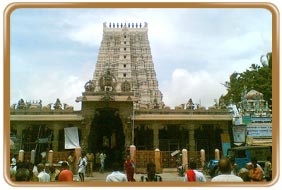 The Ramanathaswamy Temple is one of the most sacred shrines of the Hindus in India. The Jyotirlingam at the Ramanathaswamy temple is the southernmost of the 12 Jyotirlingams of India. It is considered as holy as Banaras/Kashi. The Ramanathaswamy temple is situated on the Rameshwaram Island, off the Sethu coast of Tamil Nadu. According to legends, this temple is associated with Ramayana and the victory of Lord Rama over the demon king Ravana.
The Ramanathaswamy temple is greatly revered, as it is believed that Lord Rama himself built the temple. According to the legends, after killing Ravana Lord Rama returned to India and offered worship to Lord Shiva at Rameshwaram to expiate the sin of killing the demon king. Lord Rama directed Hanuman to bring the lingam from Kailasha within a certain time but Hanuman was delayed and Sita had to prepare one of sand, before the auspicious hour. It is said that this is the same Linga of Sri Ramanatha in the temple.
Shrines at the Ramanathaswamy Temple
In the main sanctum at the temple there is the Linga of Sri Ranganatha. It is the same one, which Lord Rama had sanctified. The Vimana is three storeys tall and contains images of Hanuman, Agastya Linga and the Gandhamadhana Linga. The Linga of Vishvanatha, which is said to be brought by Hanuman, is enshrined in another sanctum to the north. Another shrine houses the image of Visalakshi, the Consort of Visvanatha while Parvathavardhani, the consort of Ramanatha is enshrined in a sanctum to his right.
How to Reach the Ramanathaswamy Temple
Air
The nearest airport is Madurai (167 Km), connected by flights with Bombay, Calicut and Madras.
Rail
Rameshwaram is connected by rail to Chennai, Madurai, Trichy and Coimbatore.
Road
Rameshwaram is connected by regular bus services with Kanykumari, Karaikudi, Chennai, Madurai, Ramanathapuram and several other cities of Tamilnadu and neighboring states.