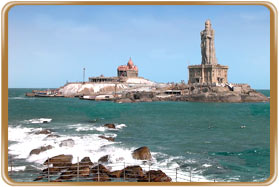 Kanyakumari weaves a magical spell over all those who visit this mesmerizing place blessed with nature's beauty in excess. Kanyakumari has that imposing splendor of striking sunrise and the soft sunset that simmer over the confluence of three oceans - the Bay of Bengal, the Arabian Sea and the India Ocean, whose every grain seems to seep inside your body, refreshing you to the core.
Kanyakumari is the southern most tip of peninsular India sprawling over an area of 1672 sq. km, occupying 1.29% of the total extent of Tamilnadu. With multi-colored sand on its beach, this exquisite land has a ringlet of majestic hills along with swaying coconut trees and paddy fields.
Vast and clear coasts with Azure Ocean lapping the shore, Kanyakumari is dotted with patches of red cliffs and valleys along with temples and churches that add to the resounding beauty of the place.
Kanyakumari is also known as Kanniyakumari in Tamil Language. As a major Hindu pilgrim center, devotees visit Kanyakumari from across the country. Delving into Kanyakumari's history, one finds the place to be onetime Alexandria of the east. The Cholas, the Cheras, the Pandyas and the Nayaks who contributed greatly to the architectural marvels of the region ruled Kanyakumari.
Apart from being a hub of art, culture, civilization, and pilgrimage for years, Kanyakumari is equally famous for commerce and trade. The architecture of this beautiful beach land is greatly inspired by religions like Islam, Christianity and Jainism.
Among the major tourist attractions in Kanyakumari is Kanyakumari temple dedicated to Parvati or Devi Kanya, who is also revered as the protector of India's shores. Kanyakumari is also home to Gandhi Mandapam that has oriyan architecture and built in memory of Mahatma Gandhi. There is also Vivekananda Memorial, about half a kilometer away from the mainland seated on a rock. The memorial has dhyan mandapam where you could sit and meditate.