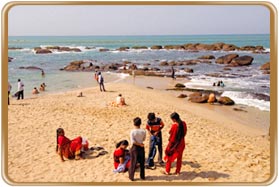 You can plan your tour to Kanyakumari at any time of the year, however the months between October and March are the most pleasant. The vast expanse of blue sky over the hurtling confluence of three oceans - the Bay of Bengal, the Indian Ocean and the Arabian Sea, presents a mesmerizing view of this end of India's mainland. Other than the beach and oceanic confluence Kanyakumari has a host of other tourist spots on its platter to offer. Some of them are as under:
Kanyakumari Temple
Overlooking the shoreline, Kanyakumari temple is dedicated to Parvati as Devi Kanya. The Hindu Mythology has it that this was the place where the Virgin Goddess did penance to obtain the hand of Lord Shiva. Devi Kanyakumari is revered as 'the protector of India's shores'. The temple is open for the devotees and tourists early in the morning from 04:30am to 11:30am and again from 5:30pm to 8:30pm. There is one downside about this temple that no one other than Hindus are allowed inside.
Padmanabhapuram Palace
As a unique repository of some of the most ancient monuments in South India, Padmanabhapuram Palace is about 15 km from Nagercoil. Built with strategic planning and military architecture, the palace remained the seat of power for the Travancore emperors till 1790. The palace is popular for its striking aesthetic beauty, innovative designs and timeless wooden carvings.
Vivekananda Memorial
About half a kilometer away from the mainland, Vivekanad Memorial is perched on one of two rocks separated by about 70 meters. Built in 1970, the memorial is dedicated to Swami Vivekananda, India's greatest social reformer. This was the rock on which Vivekanand meditated in his quest to know the truth and enlightenment. Today this memorial has a meditation room, where you can sit in peace and reflect. The memorial has a stature of Swami Vivekanand and it also houses the different styles of temple architecture from across India. It opens from Wednesday to Monday. Tuesday is holiday. It is open from 7am to 11am and from 2pm to 5pm.
Gandhi Mandapam
Quite near to the Kumari Amman Temple there is the Gandhi Mandapam, built in remembrance of Mahatma Gandhi. The memorial is said to have been built on the place where the urn carrying his ashes was kept before it was immersed in the confluence. The memorial reminds one of an Oriyan temple and was designed in such a manner that on Gandhiji's birthday (2nd October), the sun's rays kiss the place where his ashes were kept.
Suchindram Temple
Dedicated to the trinity of Shiva, Vishnu and Brahma, Suchidram temple is just 13kms from Kanniyakumari, The temple has a captivating gopuram, musical pillars and an imposing statue of the Hanuman.