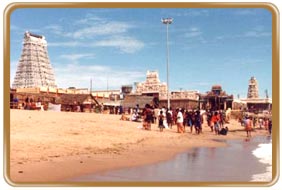 Tuticorin is also known as Thoothukudi. Also popularly known as 'Pearl City', Tuticorin is a seaport that serves South Tamilnadu, as well as the inland cities of Coimbatore, Madurai and Tirunelveli. The city, which lies about 540 km South West of Madras in the Gulf of Mannar, has a tropical climate with hot and humid environ round the year.
History of Tuticorin
Tuticorin has been traditionally known for its pearl fishery and shipbuilding. It was an important seaport during the reign of the Pandyas. The major harbor of Thoothukudi is well known for as a pearl diving and fishing center. History shows that Thoothukudi was founded by the Portuguese in 1548, annexed by the Dutch in 1658 and ceded to the British in 1825. It also became the epicenter of India's freedom movement in the early 20th century.
Attractions of Tuticorin
As a port city Tuticorin has one of the major attractions in the form of Tuticorin Port, which is strategically built to handle a host of international cargoes. Well protected from the ravages of impending storms and cyclonic winds, you can witness the sight of the cargoes loading and unloading, which is indeed worth a treat amidst the surging sea expanse.
Tuticorin has a
Tiruchendur Temple
, dedicated to Lord Subramanya; it offers a spectacular sight with a mystical aura having the sea at the backdrop. You can also visit
Panchalankurichi
at about 18 km from Tuticorin where the great warrior Katta Bomman known as "Veerapandiya Kattabomman" put up resistance against the British regime in the 17th Century AD.
You can also relish the imposing
Kattabomman Memorial Fort
, which is maintained by Archaeological Survey of India. Those interested in the historical extravagance may tour to
Ettaiyapuram Palace
, which was built during the reign of the Pandyas of Madurai.
The Basilica of a Lady of Snows
is a must visit. Built some 400 years ago the church is known for its antiquity and sacred among all communities.
You can also plan your tour to
Kalakadu Wildlife Sanctuary
, which is a home to a myriad of flora and fauna adding fun and adventure to your itinerary.
Accommodation
Tuticorin has quite a few well-maintained hotels, where you can check in at any point of day. These hotels are quite comfortable and food served is also of good quality. Some hotels offer you luxury suits with A/C. You can also get taxis from the hotel itself.