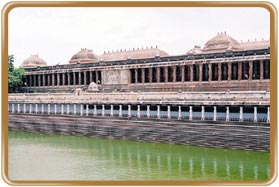 Harboring the Southern Magic
Chidambaram is situated in the east-central part of Tamilnadu state of southeastern India extending 11.24°N and 79.44°E. In the laps of the Coleroon River Valley on the Madras-Thanjavur road and rail system, Chidambaram has a tropical climate with mercury touching up to 37°C in the summers and around 20°C in the winters.
How to Reach Chidambaram
Air
Chidambaram has the nearest airports in Tiruchirapalli (195 km) and Chennai (245 km).
Rail
Chidambaram lies on the Madras-Tiruchirapalli main line of the Southern Railway, connected with Tiruchirapalli, Madras, Madurai (335 km), Rameshwaram (575 km), Bangalore (340 km), and Tirupati (290 km).
Road
You can go for bus services, which are frequently available to various places in Tamilnadu, Andhra Pradesh, Karnataka, and Pondicherry states from Chidambaram.
Chidambaram - A Tourist Hotspot
Chidambaram tourism is dotted with beautiful temples. The most famous of all is the Natraja Temple, dedicated to Lord Natraja - God Shiva conjuring the image of cosmic dancer. The Shivakamiamman Temple has the Sivaganga tank with the thousand-pillar hall. Chidambaram also houses the Thillaikaliamman temple is located in the northern precincts of the town. The city has also a residential Annamalai University, a great centre of Tamil learning and culture.
Make Chidambaram your tourist destination with lot more hotspots to visit lying around the city. Some of the favorite hunts are Pichavaram, 16 Km from the city famous for its backwaters and water sports like parasailing, rowing and canoeing. Thirty kilometers away from the city is Neyveli, one of India's hot industrial zones with lignite mining. The Kalavaryan Hills are 150 Km from the town with a beautiful botanical garden to enthrall your excursion.